What a stress before our departure!
On December 1st, we decided to depart for Martinique to buy a boat.
That day, we bought plane tickets for the 28th of December, from Montpellier, with Fort-de-France as our destination. Our goal was to go to Martinique in order to focus on buying the boat there, so as not to have to deal with the hassle of travelling during Covid19 lockdowns or restrictions.
We were still in lockdown in Nîmes on Dec 1st and we weren't sure that we would be out of lockdown by X-Mas, but we did hope for a loosening of the restriction for the festive season.
Anyway, the countdown had started, and we only had 28 days to go before leaving!
Paul found an apartment at Sainte Anne for a month. Sainte Anne is a small village next to the marina of Le Marin. Through my cousin Cyril, who's been living in Martinique for close to 20 years, we are put in contact with a broker in Martinique who started selecting boats for us right away. Then, we just needed a rental car.
I stopped working on Dec 11th in order to concentrate on preparing our departure.
15 days out, we took a good look at our luggage in order to get a first estimation of how many luggage we needed to check in. Our goal was to have 2 checked luggage and 2 carry-ons each. Plus the cat as a checked luggage.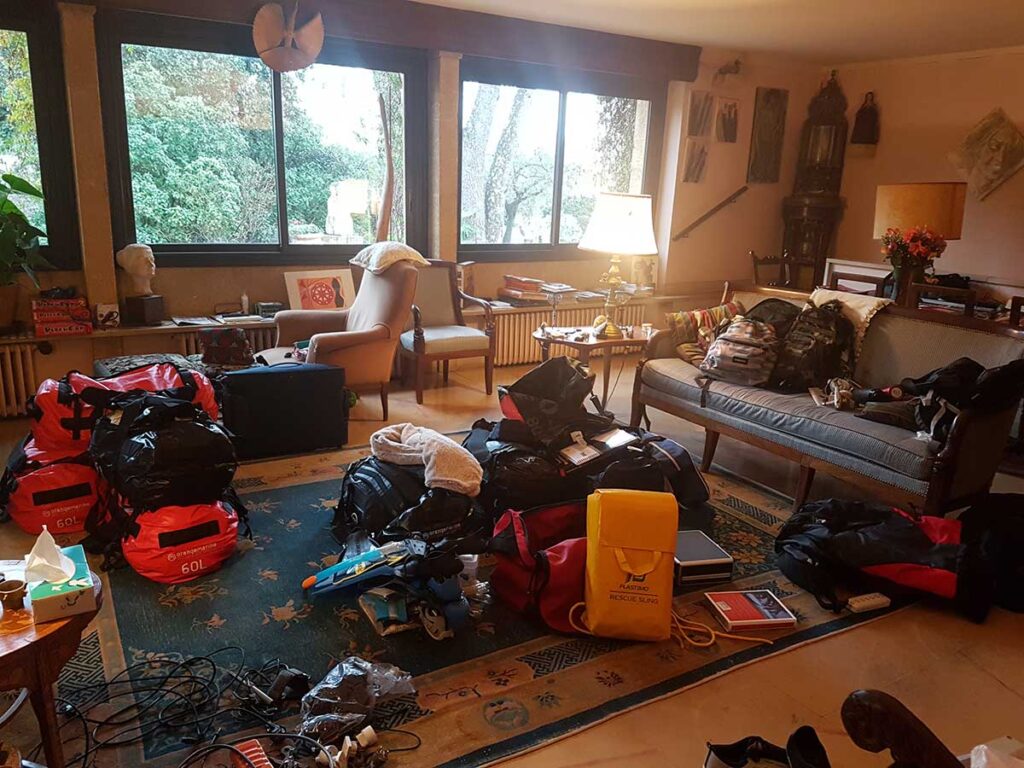 15th of December, the French government announced a temporary hold of the national lockdown for the X-Mas period. We will be able to leave France!
Small detail in order to fly out: we still need a negative PCR test. So we stayed confined in order to avoid any risk and to make sure that we'd be able to travel. We set ourselves very strict rules on who, how and when to see people so as not to risk any last minute contamination. We had to skip saying goodbye to quite a few friends, and it was absolutely impossible to have a great goodbye party for family and friends…
It was really frustrating to say goodbye to only a handful people. No hugs, no kisses, only elbow-checks and fist-bumps. Difficult for a frenchie…
The countdown to the trip
D – 4
a very peculiar X-Mas day with a very small group of people, hosted by my sister and her husband (Marie-Christine and Sebastien). Very big thank you to both of you for hosting the X-Mas dinner!
D – 3
the last run on our luggage! Paul, who seems to be a very apt Tetris player managed to get everything into 10 pieces of checked-in luggage and 7 carry-ons! Not bad at all!
Without forgetting the cat.
230 kg of luggage in total!
D – 2
72 hours before departure we need a PCR test. Paul having taken tickets for Monday morning, the best date for our test would be on Friday. But…
The plane leaves Monday the 28th, thus Friday is the 25th. Where the whole of France celebrates X-Mas and nothing is open.
Luckily, our family counts lots of nurses in its ranks. Thanks to Cyrielle and Mathieu, we were able to get PCR tests done on Saturday (thank you so much, both of you!).
Then comes the last visit to the vet to get a final stamp on the health passport of our cat. Thank you Olivia for the ride!
D – 1
A last run to get rid or donate the last of our stuff that we couldn't donate or sell. A few trips to the dump yard and clothing drives, and we're good.
We get the results of our PCR test. Everyone is negative.
We're GO!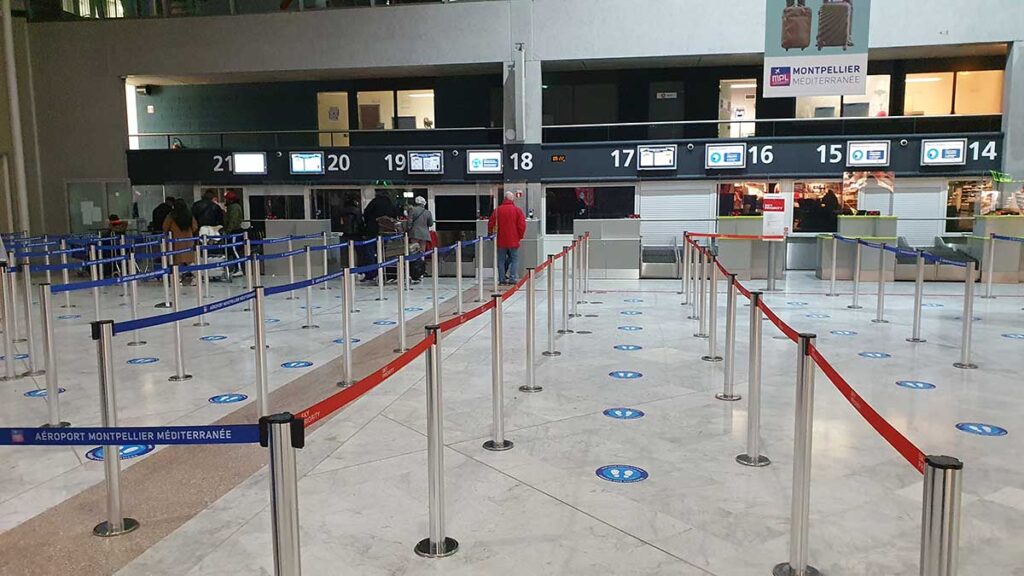 D-Day
Departure Day! It's finally here!
We get up at 3:00am and leave by 4:00m for the airport in 2 cars. One full of luggage, the other full of people.
A big thanks to Charles and Oriane for driving us to the airport despite de ungodly hour.
The trip to Martinique
The plane leaves on time at 7:20am, to Paris Orly, where we'll need to get back all our luggage and the cat's kennel, in order to re-check all of them on the flight for Fort-de-France. The joy of flying with a checked-in animal.
Once all the luggage's been re-checked, the only remaining thing is to wait the few hours before the departure of our 2nd flight. That's the second "benefit" of flying with a checked-in animal: no less than 3 hours of layover between 2 flights.
At 11:45am, finally, we embark for our 9 hour flight to Fort-de-France. A one way flight!
The kids really had fun watching movies and listening to music the entire flight, although they admitted that after 8 hours or so, they had headaches and their eyes hurt from watching so many movies… Paul found us some really good seats in Premium Economy for really cheap. It was an enjoyable experience.
Arrival in Matnik
We arrived in Martinique, landing at Fort-de-France airport, around 3:45pm.
It was a real thermal shock. We left Montpellier the outside temperature was 5°C (41°F). On arrival in Fort-de-France, right out of the plane, it was 30°C (86°F)!
Anyway, we're just glad that all luggage arrived safely. Cat included.
While waiting for the bus to take us to our rental van (which we took to transport all our belongings), we were actually glad to be in this humid heat.
Our apartment is in Sainte Anne, a small village in the south of the island. A fantastically gorgeous spot!
We finally got to get into more suitable clothing: T-shirts and shorts. 30°C in winter clothes is just not ideal. So long, trousers and pull-overs!
After some quick grocery shopping for dinner and a quick shower, we finally got to settle down. It was about 8:30pm, which would be 1:30am back in France. After a contest to see who'd manage to resist jetlag the longest, Paul failed miserably and was asleep at 8:32pm. That being said, everyone was just happy to get some rest.
Tomorrow, Paul has an appointment with a surgeon in Fort-de-France, then its on for boat visits!
Let's go!!!!